Project Profiles:
TSI Website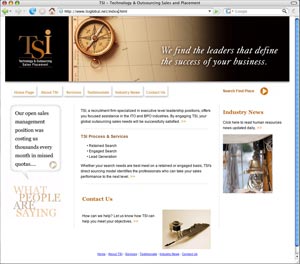 Position:

Establish TSI's place in the marketplace. Make the site a source for industry information.
Audience:

Primary: HR executives who need assistance filling high-level sales positions
Secondary: Sales professionals with superior sales performance
Challenges:

Communicating industry specific information in language and terms that appeals to both industry members and the public at large
Results:

Creation of a dynamic presence for TSI
Well organized, easy-to-find information that appeals to both audiences
A site designed to serve as a source for industry news
Creative Minds - Complete Marketing Communications.