Project Profiles:
TSI - logo and stationary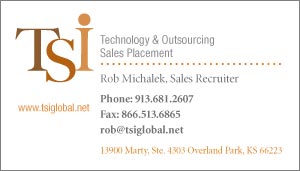 Position:

Create an image for TSI as a substantial player in the executive search field. Convey that they are here for the long term.
Audience:

Primary: HR executives of corporations that outsource various business functions
Secondary: Successful sales professionals
Challenges:

Create a distinctive look that communicates stability yet looks contemporary
Results:

A contemporary look that is sleek yet enduring
Creative Minds - Complete Marketing Communications.